The response to the launch of the transcription for Celandine has been amazing and I'm both happy and humbled that so many of you have dedicated your time to learning this piece of music. Thank you.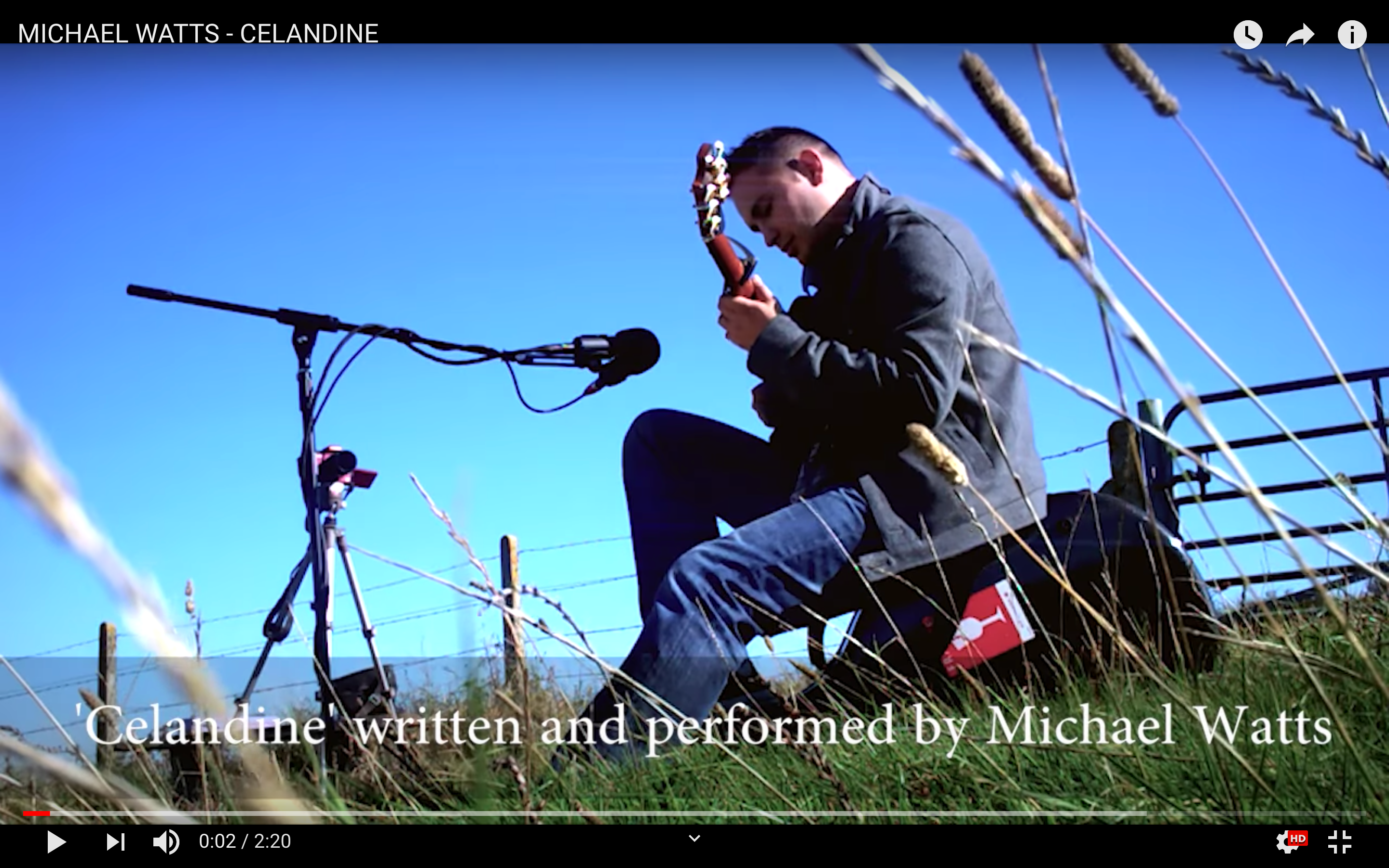 As seen on YouTube!
It's a miniature composition but the opening track of my debut album Vetiver represented an important milestone in my development both as a player and a writer for the acoustic guitar. I have had several requests to go into detail about the writing process so here we go! 
Many years ago I was working as the manager of a beautiful guitar shop. Not that one, and no, not that one either! Aren't all guitar shops beautiful in their own way though?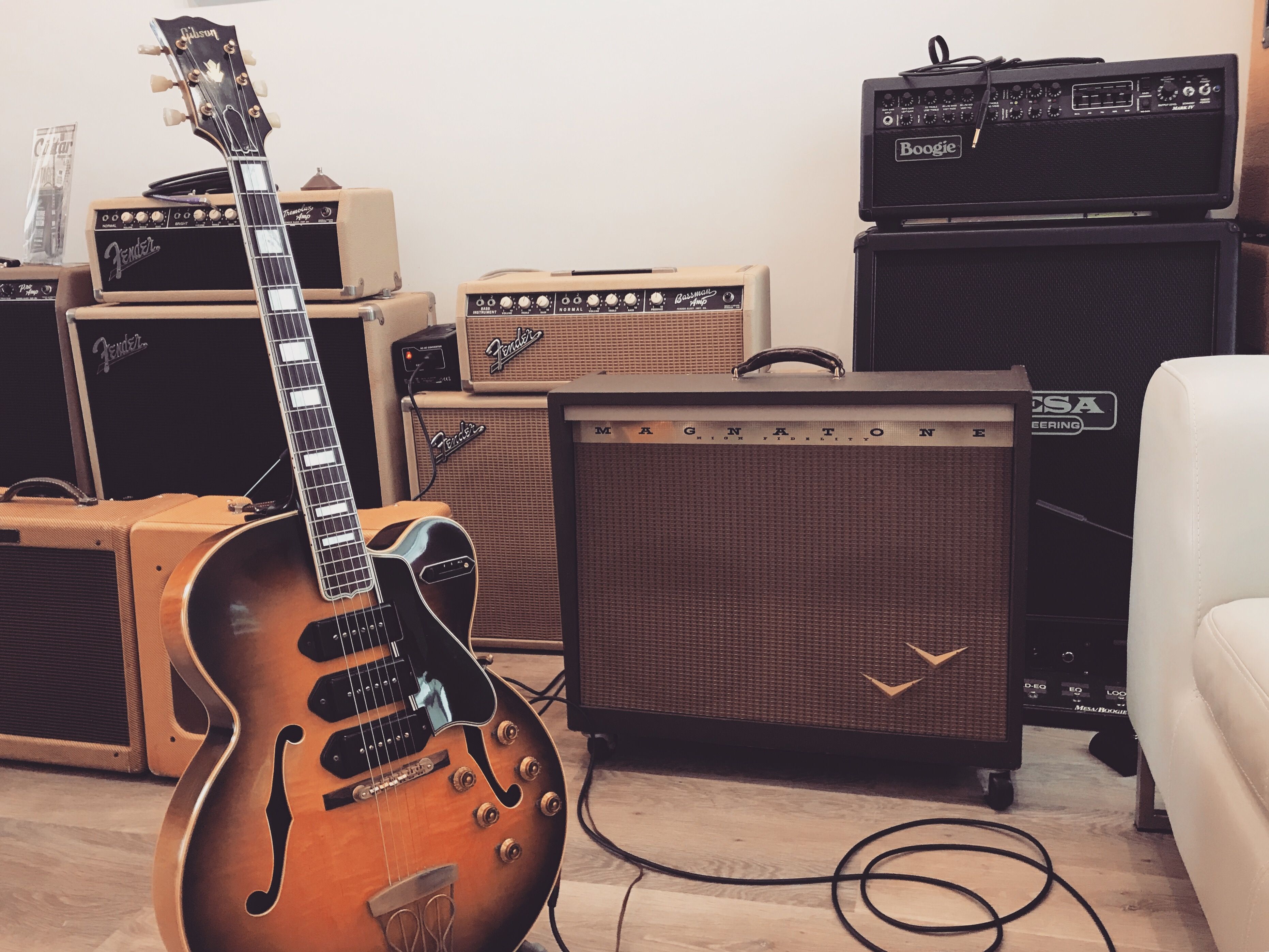 ATB Guitars in Cheltenham - Some Guitar Shops are more beautiful than others...
I had recently returned to the UK after six years living in Greece and in many ways I was beginning the process of finding myself again after a long time in another culture and another language. I was also learning what this change might mean for me as a musician. My repertoire at the time, although it was original material, was heavily reliant on loops and effects with very little in the way of solo fingerstyle guitar.
This track, Persephone, is the only remaining acoustic evidence of that time in Greece. You'll see a heavy Michael Hedges/Eric Roche influence along with some oceanic reverb and perhaps not an awful lot of Michael Watts... 
Back in the UK I found myself making a conscious effort to strip back everything that I could not readily identify as me. I felt a very real need to get to the essence of what it meant when I had a guitar in my hands. This was one of the first steps in my exploration of intent and visualisation in music and it laid the foundations of what was to become the album Vetiver as well as forming the core of much of my masterclasses. The most important aspect of this was to allow melody to take centre stage and for the harmonisation to be open, maybe even sparse at times - but always supportive. 
The first notes of Celandine were written on a Davy Graham signature Martin that I got to spend a few hours with one afternoon. The action on that guitar was something fierce and I found that unless I put a capo on the 4th fret the instrument was all but unplayable. Nevertheless a melody "fell out" pretty much fully formed! I continued to work on it for another few months before flying out to Montreal for the 2010 Montreal Guitar Show. It was here that I had the chance to play the first guitar by Jason Kostal - Serial Number 31, a Modified Dreadnought in Madagascar Rosewood and German Spruce that is now with Todd Rundgren.
In the video below you can see me playing the piece before being interrupted at the end by Ervin Somogyi who had come back from a trip to the pharmacy! You'll see that I was still to discover Elliott capos, I'm using a G7 and you can definitely hear the difference. Speaking of which, this is camera audio, my apologies in advance for that. 
Given that it's a vignette rather than a sprawling composition, Celandine was completed relatively quickly. It was the first piece that I played and filmed on my first Kostal guitar #32 a Modified Dreadnought in The Tree and German Spruce. This footage was captured within earshot of the motorway on a windy day so it's frankly a miracle we got anything usable at all! That said, the sound here is about 50/50 pickup and microphone. Bradley Steenkamp did a great job here and it's long been the most popular video on my channel. 
While I didn't have a specific running order in mind when I sat down with producer Mark Pavey to begin work on Vetiver it very quickly became apparent that Celandine would work well as the opening track of the album. It was a joy to record and I am grateful to Mark for his wonderful work on the whole record. It would not have been possible without his talents in the producer's chair. Total legend.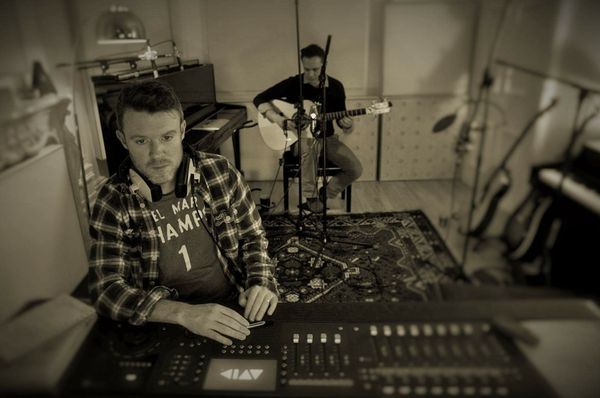 The Vetiver Sessions with Mark Pavey 
Celandine certainly caught the attention of Prof. John Thomas who wrote the liner notes for Vetiver.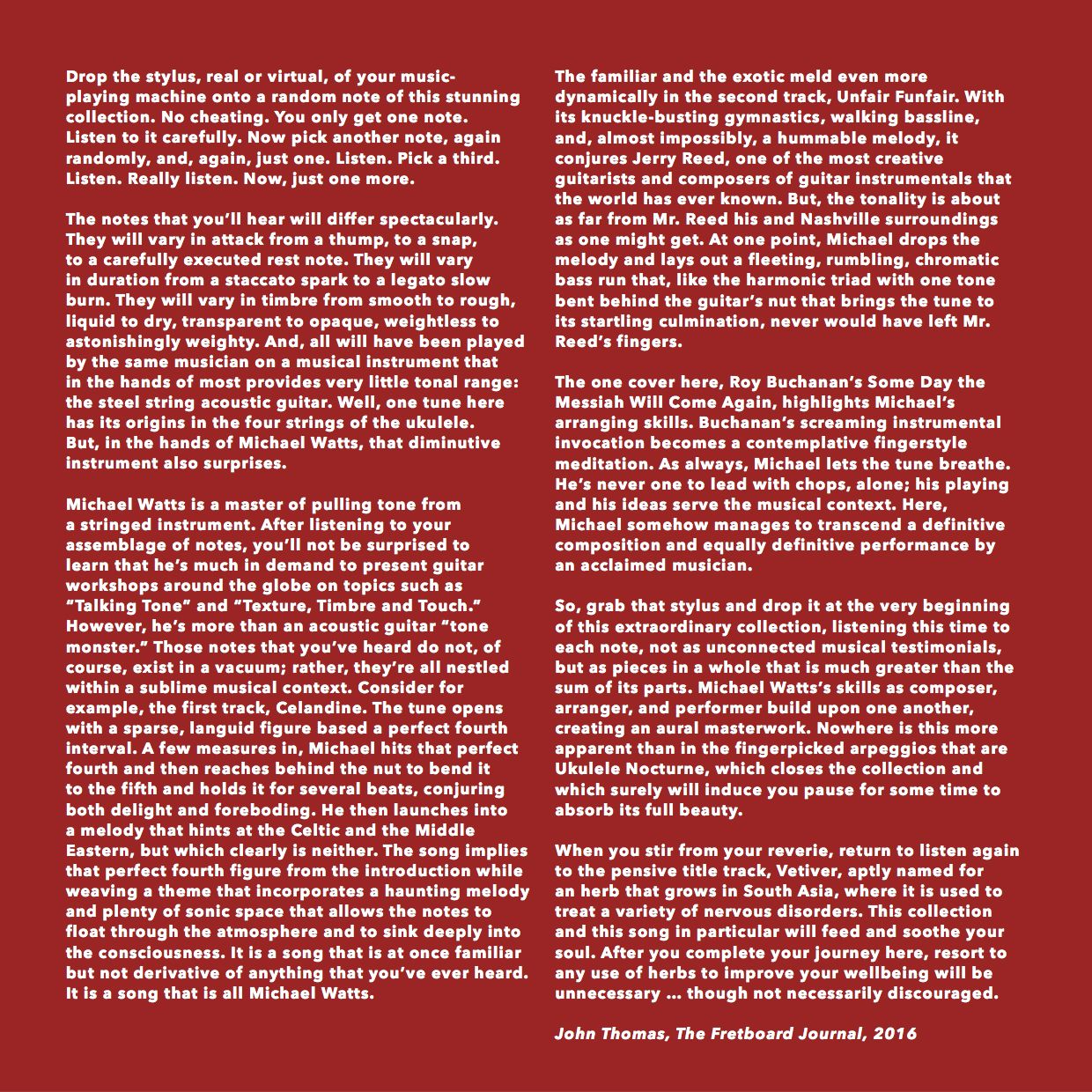 Vetiver Liner notes - Prof. John Thomas - Fretboard Journal
More recently I was delighted to learn that Celandine had been used on the soundtrack of a Telly Award winning short film made by the incredibly talented Jessica Savidge who produced this gorgeous footage for the Kostal Guitars website. Take a look! 
It made me very happy to send Jessica the first copy of Celandine by way of thanks for using the piece, and I was delighted to see the transcription had arrived safely in Arizona.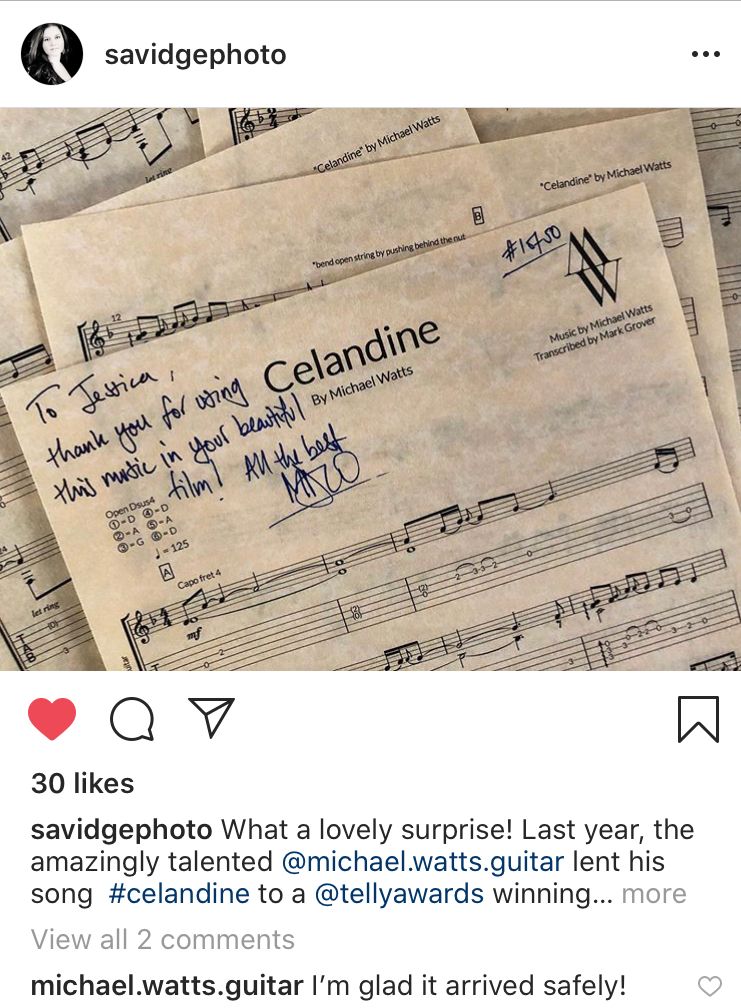 So what now? Well, in a way it's yours. If you want it. It's yours to learn, to develop, to explore. My students have described playing it as a meditative experience and it certainly demands a level of concentration and focus that I find very satisfying when it goes right! It may bring out parts of your playing that you haven't looked at in this amount of detail - It certainly did for me.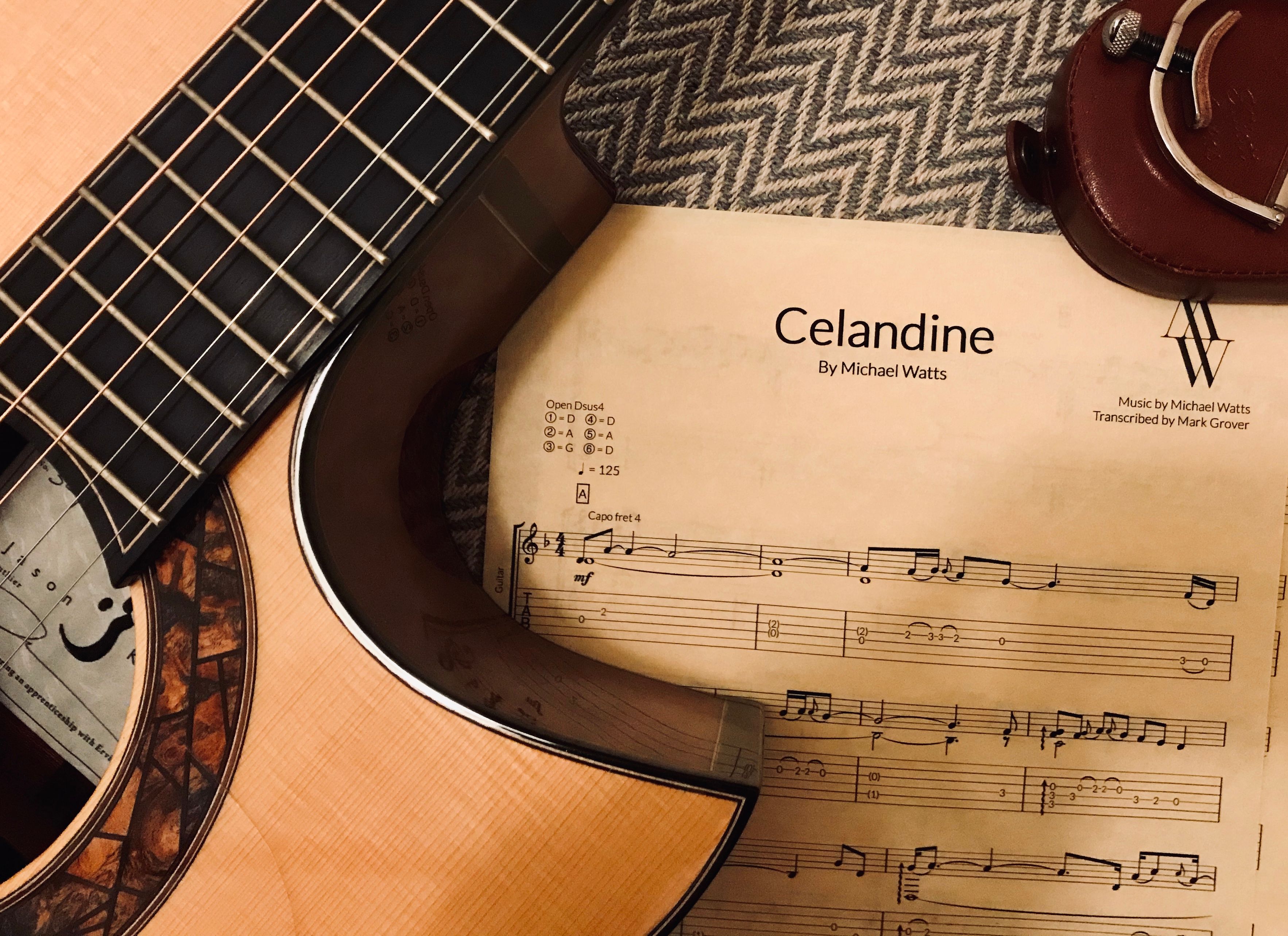 Until next time
Stay Tuned
MDW