ABOUT
"

It's kind of mind-blowing how awesome he is... He's an acoustic juggernaut! "
— Tony Polecastro - Acoustic Life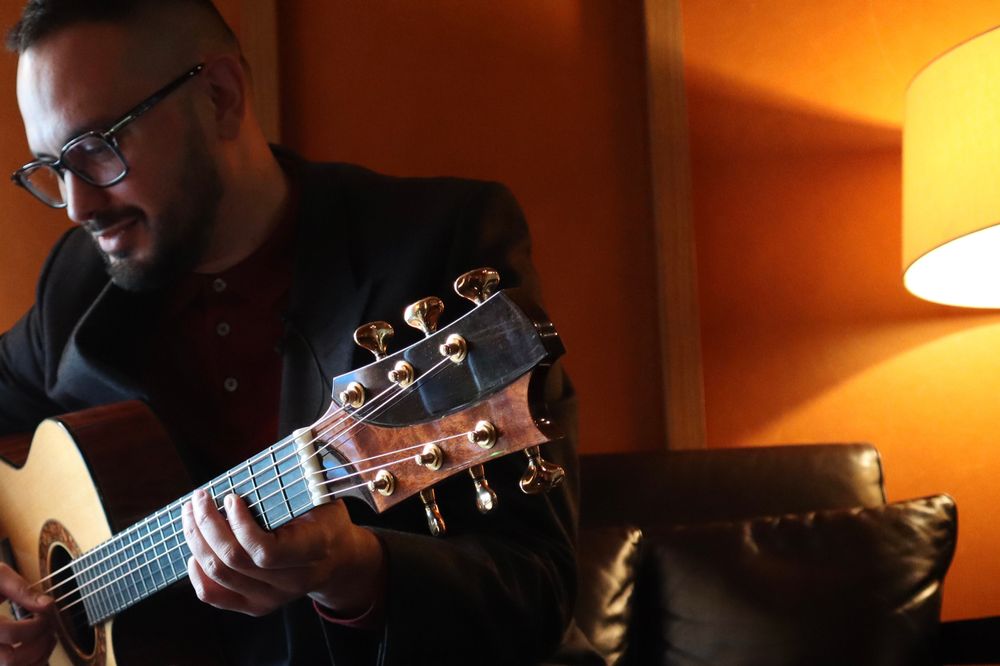 MICHAEL WATTS
Michael Watts is a guitarist, writer, journalist and film-maker based in Surrey UK. A previous recipient of the Acoustic Guitarist of the Year award (and later a member of the judging panel) Michael has shared a bill with some of the greatest instrumentalists in the world and is known for his onstage charisma, exquisite touch and the depth of feel and nuance in his playing and composition.
With a sound informed as much by the guitar heroes of the 1960s UK folk revival as anything on the Windham Hill label - this expressive approach to the instrument has seen Michael described as the antidote to the CandyRat records style. He is not sure how he feels about this. 
Michael has probably played as many luthier-built guitars as anyone else in the world and having spent many years at the bleeding edge of the global guitar scene he is a vocal champion of the art of modern steel string guitar luthiery. During a decade-long career as a dealer Michael worked with a client list that included oscar-winning actors, Hollywood directors, Grammy -winning producers, designers and captains of industry - many of whom you might be surprised to learn play the guitar.
You may also have seen Michael as the host of Luthier Stories - a series that has seen him travelling around the world to interview many of the world's finest guitar makers including Ervin Somogyi, Jason Kostal, Stefan Sobell and Casimi Guitars amongst others. 
 Michael writes, records, and performs instrumental music for solo steel-string acoustic guitar. His debut album "VETIVER" is available here. The opening track Celandine was recently used on an award-winning short film. 
Michael is also a lover of the electric guitar and its accompanying shiny boxes -  his thoughts on many of them can be read in the pages of The Guitar Magazine in addition to interviews with guitarists such as Tommy Emmanuel and Jerry Douglas, Al Di Meola, Michael Landau, Kenny Wayne Shepherd, John McLaughlin, Carlos Santana and others. 
Described as a "Gentleman Renegade" and an acknowledged expert in the field of the luthier-built guitar, Michael is regularly invited to give lectures and masterclasses, and demonstrate the work of guitar builders around the world. More often than not, he accepts. 
Michael's guitars are handmade in Phoenix Arizona by Jason Kostal and strung exclusively with Elixir Strings. He keeps them safe in Hoffee Cases. 
When it comes to writing about himself in the third person Michael admits he lacks stamina. However, if you would like to learn more, you can check out this podcast interview with The Fretboard Journal. 
CAREER HIGHLIGHTS
1998 - Studies with Isaac Guillory 
1999 - Guitarist Magazine Acoustic Guitarist of The Year  
1999 - Studies with John Renbourn 
2001 - Studies with Pierre Bensusan 
2004 - Private performance for Prince Nikolaos of Greece 
2004 - Private performance for Demis Roussos 
2009 - Montréal Guitar Show performance for Lame Horse Guitars (TX USA) 
2009 - Montréal Guitar Show performance at the launch of Ervin Somogyi's Books "The Responsive Guitar" and "Making The Responsive Guitar" 
2010 - Montréal Guitar Show performance for Somogyi Guitars (CA USA) playing the presentation "Andamento" guitar in Flamed Maple.  
2010 - Montréal Guitar Show - featured in Premier Guitar Magazine 
2010 - Montréal Guitar Show performance for Lame Horse Guitars (TX USA) 
2011 - Montréal Guitar Show performance for Kostal Guitars (AZ USA) 
2011 - Healdsburg Guitar Festival (CA USA) performance for Kostal Guitars (AZ USA) 
2011 - Healdsburg Guitar Festival (CA USA) featured solo concert 
2011 - Healdsburg Guitar Festival (CA USA) workshop "Choosing a Luthier-built Guitar" 
2012 - "Tone Obsession" article Guitar Bench Magazine  
2013 - Electric Guitar w/ Beverley Martyn at the "Celebration of Bert Jansch" ft. Robert Plant, Donovan, Ralph McTell, Bernard Butler - Royal Festival Hall 
2014 - Release of The Phoenix and The Turtle by Beverley Martyn (E. Guitars) ft Matt Malley (Counting Crows), Victor Bisetti (Los Lobos) Mark Pavey 
2014 - Bob Harris show BBC 2 w/ Beverley Martyn live performance 
2014 - Interview with Fred Greene of Martin Guitars in Guitar Connoisseur Magazine 
2014 - Interview with Michihiro Matsuda in Guitar Connoisseur Magazine 
2015 - Memphis Acoustic Guitar Festival (TN USA) featured solo concert 
2015 - Memphis Acoustic Guitar Festival (TN USA) workshop "Talking Tone" 
2015 - Memphis Acoustic Guitar Festival (TN USA) performance for Lame Horse Guitars (TX USA) 
2015 - Memphis Acoustic Guitar Festival (TN USA) performance for Kostal Guitars (AZ USA) 
2015 - Roberto-Venn School of Lutherie (AZ USA) lecture "The Bespoke Guitar" 
2016 - Kostal Guitars "MDW" Michael Watts Signature model launched - Michael Watts and Jason Kostal (AZ USA) 
2016 - Santa Barbara Acoustic Instrument Celebration (CA USA) masterclass "Texture, Timbre and Touch" 
2016 - Santa Barbara Acoustic Instrument Celebration (CA USA) featured concert 
2016 - Santa Barbara Acoustic Instrument Celebration (CA USA) Duet with Michael Chapdelaine on behalf of Michaud Made Guitars 
2016 - Santa Barbara Acoustic Instrument Celebration (CA USA) performance for Åstrand Guitars 
2016 - Santa Barbara Acoustic Instrument Celebration (CA USA) performance for Kostal Guitars 
2016 - Holy Grail Guitar show (Berlin Germany) panel member for round table discussion "The Dealer, Media and Luthier Network" 
2016 - Holy Grail Guitar show (Berlin Germany) performance for Kostal Guitars 
2016 - Holy Grail Guitar show (Berlin Germany) performance for Lame Horse Guitars 
2016 - Holy Grail Guitar show (Berlin Germany) performance for Spalt Guitars 
2017 - Salon de La Belle Guitare (Paris France) performance for Kostal Guitars 
2018 - Holy Grail Guitar Show (Berlin Germany) performance for Buendia Guitars 
2018 - Holy Grail Guitar Show (Berlin Germany) performance for Lame Horse Guitars 
2018 - Holy Grail Guitar Show (Berlin Germany) performance for Kostal Guitars 
2018 - Performance for Linda Manzer at The Canadian High Commission London at the closing ceremony of the group of Seven Guitar Project.  
2018 - Feature on CNN African Voices with Casimi Guitars - Cape Town South Africa
2018 - Workshop performances at Casimi Guitars - Cape Town South Africa
2019 - Headline act for the inaugural B.I.G.G Guitar festival - Spring Branch Texas USA
2020 - Interviewer for Guitar.com Live - Carlos Santana, John McLaughlin, Vernon Reid, Kenny Wayne Shepherd, Kirk Fletcher, Mateus Asato, Plini
2020 - Octet Performance for Elixir Strings
2017 - Present - Writer, reviewer and interviewer for Guitar.com
2021 - Collaboration with luthier Thierry André on the Clara Archtop
2021 - Commision of a bespoke instrument by Casimi Guitars