It's always a pleasure to visit Rosie Heydenrych of Turnstone Guitars - all the more so because I can be pretty sure that due to her constant explorations of English woods she'll have something for me to play that I've never seen before! Rosie had asked me to film demo videos of three new guitars, two of which feature English-grown Monterey Cypress on the soundboards. This would also be my first opportunity to play a Turnstone Cutaway model - who could resist?
"Out of English-grown soundboard choices I've found Monterey Cypress provides a slightly brighter sounding instrument in comparison to something like Western Red Cedar. It's still underpinned by a rounded warmth which makes it a pretty versatile for fingerstyle and it has a unique visual appeal too - if you're looking for something beautiful and different!"
- Rosie Heydenrych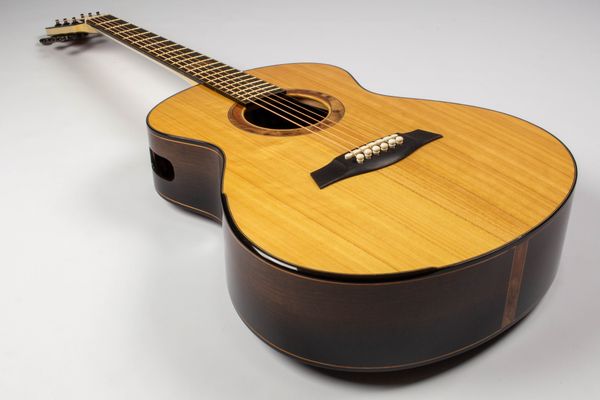 There's no denying it's good looking stuff!
The Turnstone TM model is Rosie's middle size and with a 15" lower bout and a 650mm scale length it's a full-sounding instrument in both 14 and 12 fret configurations. In this case we see it in Fenland Black Oak and Monterey Cypress. As usual I'm playing into a matched pair of Gefell M300's with no EQ, reverb or effects added. 
Here's another TM this time with Rosie's beautiful florentine cutaway in the more familiar wood combination of Brazilian Mahogany and Alpine Spruce. I really enjoyed this one, the mahogany sounds like great Cuban and when it's twinned with quality Euro spruce you can't go wrong! 
Finally here's a beautiful example of Rosie's largest model, the TG in Cocobolo with a Monterey Cypress lid. The extra surface area of the soundboard and air in the chamber make for a powerful instrument and this one growls! 
It was a real pleasure to play these guitars and also a welcome opportunity to experience some of my new album tracks with a different voice. I also shot an interview with Rosie which is in edit right now and I look forward to sharing it with you very soon!
Until next time
Stay Tuned
Michael Watts